Film: Viking Settlers in Ireland
Viking Settlers in Ireland did not just live in the great urban centres like Dublin, Limerick and Waterford but also in scattered farms across a rural landscape where they intermingled with the native Irish population.
Many of the men made their living fishing and trading and so were often away from home, leaving their womenfolk to run the farms.
This film shows two incidents which illustrate facets of Viking life in Ireland.
One tells the story of a Viking family living in an abandoned ringfort by the banks of the river Shannon.
The second looks at the adventures of a Viking slave-trader who, having acquired various slaves and people for ransom, is attacked on his way home by local Irish warriors.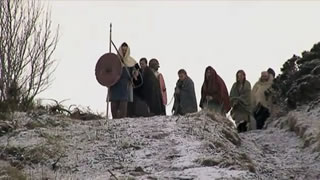 The aim of the film is to emphasize the mixed Hiberno-Norse culture which developed in Ireland as a result of Viking settlement and the extent to which this facilitated the greater movement of people around Atlantic Europe.
This film was made as a result of a bilateral grant from the Irish Research Council for the Humanities and Social Studies and the British Arts and Humanities Research Council.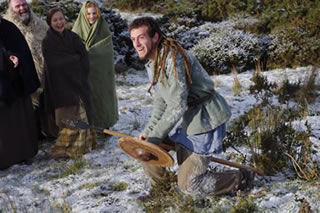 Thanks are due to the students of Mary Immaculate College, in particular those on the International and Foundation Studies programme, who volunteered to act in the film, and to Craggaunowen Heritage Park, Co. Clare, Ireland, where the ringfort scenes were filmed.
Location photo by Dave Mooney.
Mogh Roith are a multi-period re-enactment, living history and experimental archaeology group based in counties Clare and Limerick, in the west of Ireland. They specialise in the research, development and display of historical artefacts, equipment and costume from many periods in Irish History and Prehistory. www.moghroith.org
| | |
| --- | --- |
| Project Manager/Producer | Dr Catherine Swift |
| Direction, Costume & Props | Billy MagFhloinn |
| 1st AD, Costume & Props | Dave Mooney |
| Costume & Props | Mogh Roith |
| Players | Mary Immaculate College students |
| Filming/Direction of Photography | Applebox Media Ltd, see also Applebox Media |